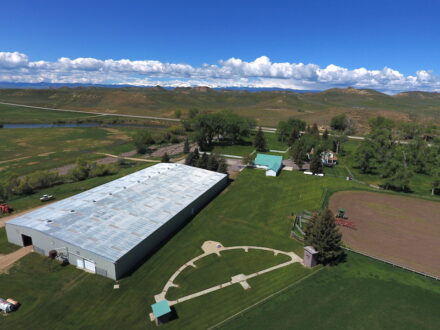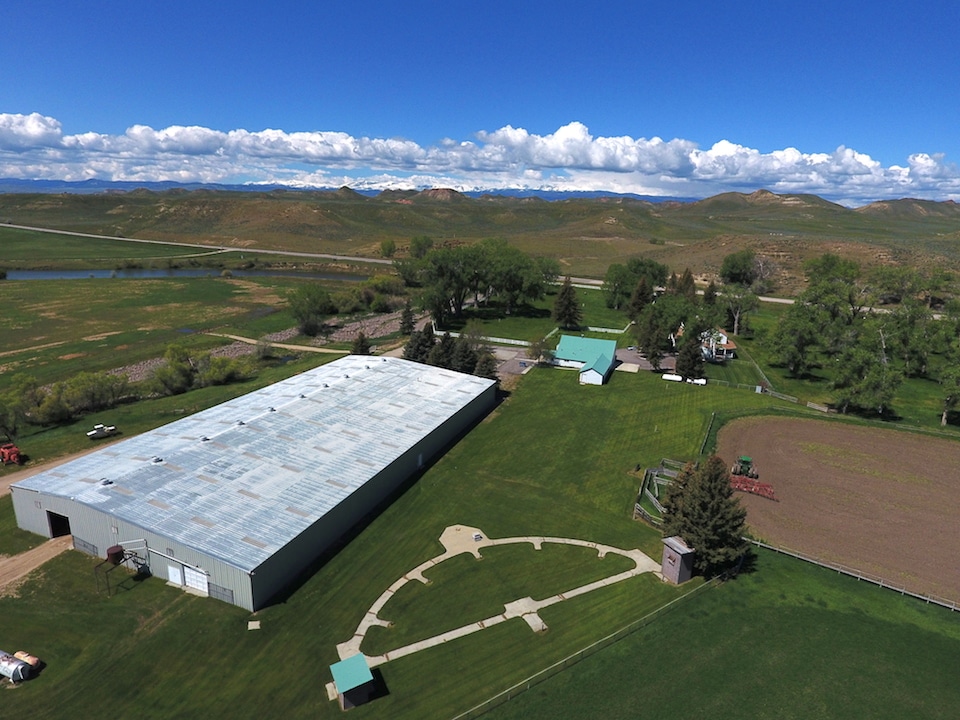 The C Bar B Ranch is an exceptional property with fly-fishing that's nicely located in a beautiful setting along Clear Creek just a short drive from Buffalo, Wyoming. Offering everything a Buyer would want in a Wyoming ranch, the C Bar B Ranch should be at the top of your list of places to see. The C Bar B Ranch comes with productive agricultural operations, the finest in hunting and sporting features, as well as equestrian amenities and of course luxurious living all amongst pure beauty.
Agricultural Operations
The ranch consists of 1,043 deeded acres that is comprised of productive fields and pasture for abundant hay production and about 125 cows.
The C Bar B Ranch has the 3rd most senior water right on Clear Creek for irrigating 659 acres of territorial adjudicated water rights under two different appropriations. (Priority 9-15-1884 with 2.86 cfs for 200 acres and Priority 6-1-1885 with part of 8.86 cfs for 459 acres.) The ranch also owns about 312 shares of supplemental water in Healy Reservoir, so there is an abundance of water for all its irrigation needs.
Currently, the owners are irrigating about 360-acres under seven center pivots and another 40 acres are being flood irrigated. There are about 219 acres that are sub-irrigated and 300± acres are bottomland. The fertility of the land combined with early priority water rights provides excellent productivity and is easily capable of producing 1,400± tons of alfalfa hay annually.
The ranch is nicely setup for running a small herd of cattle, too. Under current operations the owners run their cows on leased pasture during the summer months and then bring them home for the rest of the year. The ranch comes with a full set of livestock feed pens, working facilities, sheds, a chute, alley and scales.
Fly-fishing, Hunting & Sporting Features
The fly-fishing, hunting and sporting features are incredible on this small ranch. With about 3.75± miles of private trophy trout fishing on Clear Creek, anglers will delight in the quality and quantity of fishing available to them. Game bird enthusiasts will enjoy the pro-style skeet shooting range for both practice and fun. For real life action, the prime riparian areas and upland habitat provides for exceptional game bird and waterfowl hunting. The ranch has a small set of dog kennels to safely keep their prized hunting partners and there are pheasant pens if a game bird license is of interest. For big game, hunters and non-hunters alike, will be amazed at the amount of mule and whitetail deer that love grazing the alfalfa hay meadows in the fall. The ranch also borders about 10,000 acres of State land that can legally be accessed for hunting or recreation from the ranch.
Equestrian Amenities
Though currently not used, the ranch's equestrian facilities were designed for training and hosting competitive hunter-jumper events. The facilities are incredible and include a 32,000 square foot indoor arena and barn that includes 19 large stalls, washroom, feed room, tack room, restrooms and office. Plus, the ranch itself and the nearly 10,000 acres of adjacent State land provides an almost endless amount of outdoor riding opportunities for training or leisure riding.
Improvements
The living improvements include a recently updated and remodeled 100-year old executive house with about 5,800 square feet, 4-bedrooms, and 5-baths, boasts refinement modern elegance and comfort. It is surrounded by century old, towering cottonwood & spruce trees. Furthermore, the ranch has a separate guesthouse and corporate office in addition to a manager's home and additional bunkhouse.
Conservation
The C Bar B Ranch is wonderfully preserved by a conservation easement for the protection of the agricultural, open space and aesthetic values of the property with the Wyoming Stock Growers Association Land Trust Easement. Unlike some easements, this one has the flexibility of adding one additional building site.
John Chase
Associate Broker · Chase Brothers, LLC Owner