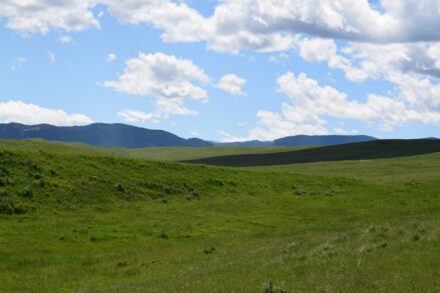 The Box Cross 640 is the northern 640 acres of the historical Box Cross Ranch, which was predominately homesteaded by the Nottingham family in the 1890s. In addition to its historical significance, this Wyoming land for sale encompasses some of the most significant landscapes between Sheridan and the Bighorn Mountains.
The current owners of the ranch are now offering, for the first time since 1947 when they took ownership, 640 acres of beautiful land in the coveted Bighorn Mountain foothills. This land has no improvements other than some irrigation ditches and fences. For a limited time, this ranch can be purchased together with the adjacent irrigated land PRAIRIE SPRINGS RANCH, which would create an amazing 933± ranch within 10 minutes of downtown Sheridan. We cannot stress how significant this opportunity is, considering the current growth of Sheridan and its attractiveness to many who long for a taste of the West at its Best. It's an opportunity to keep this landscape as an agricultural operation and preserve its character forever.
This remarkable opportunity of combining the two ranches will give a new owner substantial irrigation and grazing options and a highly productive ranch for livestock, crops and horses. Since this area is so equestrian oriented, this could even be another polo facility. Or at the very least a polo pony making operation. Furthermore, there are many choices of homesites for unbelievable views and privacy, all on agriculturally zoned land. Agriculturally zoned land is significant in Wyoming for low taxes. Under current Sheridan County zoning for agriculture, the minimum parcel size is 80 acres, which could provide a new owner opportunity for several home parcels.
In the early 1900s, Mr. Lovell purchased the ranch. He was a partner with E. C. Bowman in the construction company that built Park Reservoir. The north portion of the Box Cross Ranch was later homesteaded or leased to Mr. Lovell to raise cattle to feed the construction workers on the mountains during the summer months. Lovell and Bowman offered year-round employment to the construction workers who lived and worked during the winter on the ranch. These men cleared the fields of rock (several piles can still be seen on the north hills). E.C. continued to build ditches across the ranch. He irrigated, cut hay and provided pasture not only to cows but the many head of horses used in the summer construction projects.
– Judy Slack
Conservation Easement Opportunities
Due to the location of this land in the Bighorn Mountain foothills and its proximity to Sheridan, which benefits the view-shed from Sheridan, it might have significant conservation easement opportunities. This region has many ranches that have been preserved in perpetuity from development, which has impressive tax credit benefits.
John Chase
Associate Broker · Chase Brothers, LLC Owner