Description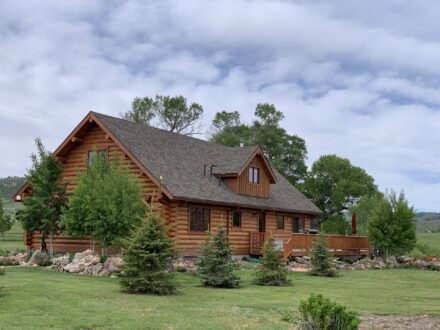 Brand New Listing! Please check back frequently for media updates.
The Root Creek Ranch is a fantastic rural Wyoming property only 15 minutes south of Glenrock, WY and just upstream of Converse County Park and Box Elder Canyon recreation areas. This 429 acre ranch offers excellent live-water fly fishing in addition to still-water fishing in the Root Creek pond, both just steps from the ranch house and shop. For the hunter or photographer, the terrain and vegetation make great natural habitat for mule deer, elk and pronghorn antelope and many smaller animals. The Root Creek Ranch is an excellent private retreat with easy access to Glenrock, Casper and Douglas. Plus it's an easy 4-hour drive from Denver, or 3 from Ft. Collins.
The modern three bedroom log home and nearby shop buildings are in immaculate condition, with superb landscaping, and the surrounding land and fences are in great shape. Creek conditions are excellent. You won't find a place that has been more loved.
The home has beautiful open spaces, a comfortable western ambiance, and modern finishes. With a large wrap-around deck, one can easily enjoy the beauty of the ranch and the creek passing by below, all with the century-old large cottonwood trees adding an intimate atmosphere. Songbirds and hummingbirds add to the ambiance when you choose to enjoy the outdoor living.
All the great Wyoming ranch amenities one would hope to have can be found here on the ranch. Agricultural and recreational attributes are well balanced and blend nicely, creating a symbiotic environment together. The beautifully maintained hay meadows provide excellent feed to draw in the deer and elk in the evenings and the strong stands of Mountain Mahogany on the south end provide excellent cover and winter feed for a perfect mule deer habitat.
With water being the life-blood of Wyoming, this ranch is blessed with abundant water in all forms. The ranch has 3 very good water wells in addition to the irrigation water out of Box Elder Creek and Root Creek. Two reservoirs enhance the ranch too; one for irrigation and the other for fishing. Box Elder Creek, an excellent trout stream, flows about 3,200' along the western boundary of the ranch. This cottonwood and willow lined creek produces 15-22" rainbow and brown trout while the riparian corridor enhances the ranch and is beneficial to wildlife.
Below the ranch, Box Elder Creek makes its way through the nearby Converse County Box Elder Park (A significant and beautiful recreation area within minutes of the ranch), the rugged canyon area of the northern Laramie Range uplift. At this point, the scenic canyon and Box Elder Creek are a notorious trout fishery, climbing area and great for hunting, general recreation and hiking .
Root Creek Ranch is easily accessed on a good road just 13 miles south of Glenrock. The drive from Glenrock to the ranch is surprisingly beautiful as you ascend though the old Duncan Ranch (now State-owned) and the 15,000± acre Converse County Box Elder Park on a paved road. It eventually turns into a well-maintained gravel road that's kept open for school. Furthermore, there are approximately 2,000 acres of State land immediately tp the east of the ranch, further enhancing the recreation opportunities. From Casper, the ranch is about 45 minutes and from Douglas, it's about a 30-minute drive.
This is a top-quality and exceptional small ranch that is sure to please any discriminating buyer who seeks privacy and solace in Wyoming's low-tax, high-quality western lifestyle.
Water Rights
Root #2 1884 · 12 acres
Root #1 1886 · 17 acres
H. Bartshe 1900 · 27 acres
Kimbell #1 1900 · 17 acres
Leo 1929 · 24 acres
Inquire About Root Creek Ranch